Kiseido 귀생당 우황청심환
귀생당 우황청심원은 동의보감 원방 처방 그대로 만들었습니다.
인조우황이 아닌 천연우황을 사용하므로 더욱 효과가 좋습니다.
귀생당 우황청심원 복용법: 보름에 한개 정도 드시면 좋습니다.
빠른 회복을 위하여는 한 개를 반으로 쪼개서 매일 반 개씩 복용하셔도 좋습니다.
또는 하루 1-2회
성인 1회 1환, 15-8세 ½환 ,7-5세 1/3환, 4-2세 ¼환
*복용시 될 수 있으면 물을 마시지 마시고, 숨을 크게 내쉬지 마시고, 드시고 난 후 3분 동안은 말을 하지 마십시오. 그러면 매우 효과가 뛰어납니다.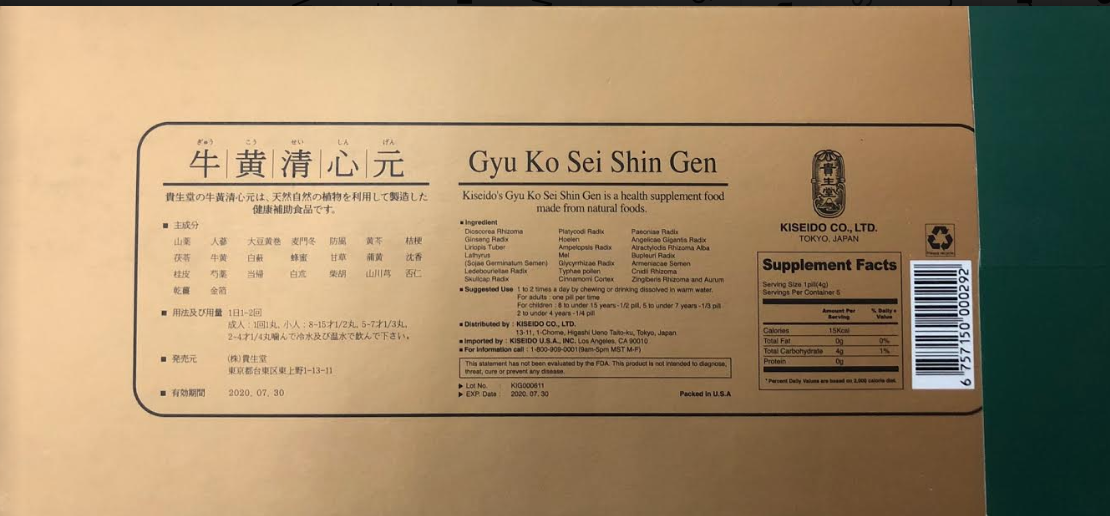 Direction:It is recommended that you take one to two weeks.
For a quick recovery, you can split one into half and take half a day. Or 1-2 times a day.
Adult 1 time, 15-8 years ½ year, 7-5 years 1/3 year, 4-2 year age
* Do not drink water if you can take it, do not take your breath out loud, and do not talk for 3 minutes after you take it. This is very effective.